Top 200 Happy Father's Day Wishes, Messages and Cards
Life is short, so we should learn to appreciate the people that matter to us the most because overtime we would wish we did.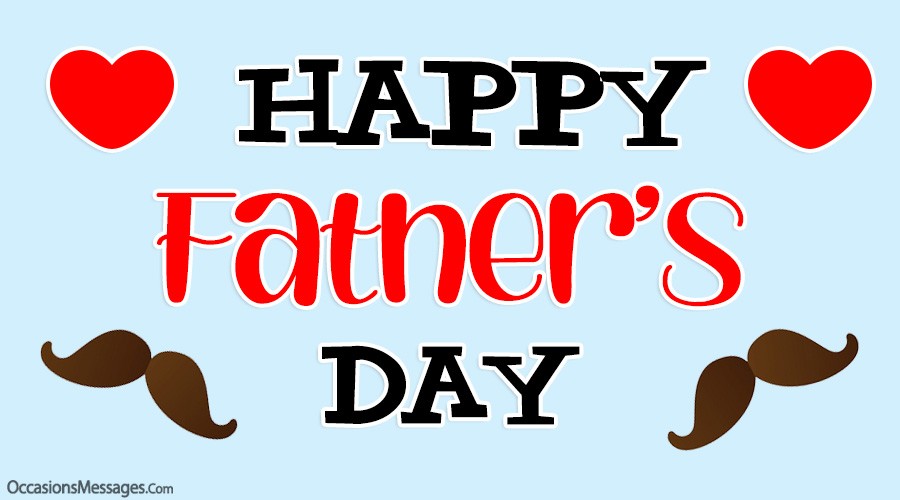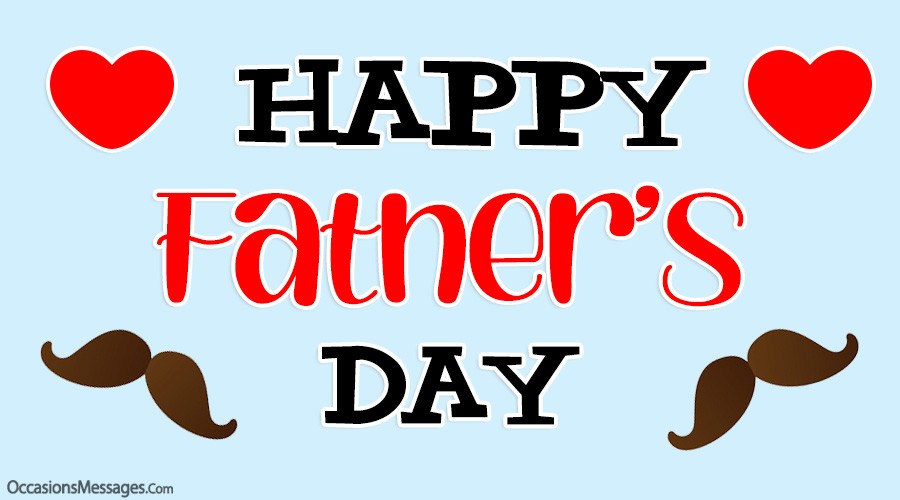 It is another Father's Day around the corner; therefore, let us try to convey our thoughts and wishes through a simple message to our hero's. Check below for more Father's Day messages that is needed to excite the fathers that we know.
Best Father's Day Messages
It is impossible to debate my love for you. It is visible to the blind that I care so much for my father just as you also reciprocate.
We will celebrate much more father's day together, but let's try to make today's event one of the best you ever had in a lifetime.
Did you think today will end without me checking up on you, come on, it is father's day, and I do not forget anything that concerns you.
It was easy for me to strike out some of my schedules for the day to spend a chunk of time with you on Father's Day.
The best is yet to happen in your life, as you observe the Father's Day celebration, it will usher you into a lifetime of ease and plenty.
There is a lot of fathers out there parading themselves as the best dad on Fathers Day, I laugh at them because they are yet to meet you. Happy Father's Day.
From Son
Dearest dad, thank you for your support, your dedication and your infinite love. Happy Fathers Day!
From you I inherited my best qualities and for you I fight to be the best son in the world! Happy Father's Day, my hero!
Dearest dad, having you as a father makes me want to shout to the world how lucky I am to be your son. Happy Fathers Day!
Dearest dad, daily setting the best example, you are the best man I know; you are my inspiration and reference for everything. Happy Fathers Day!
Happy father's day, my hero! Not only today, but every day, you are worthy of the most effusive tributes, because you are the best!
Hero, support, confidant, father. So many roles that you have played in my life. If I am the great man I am today, it is thanks to you. Happy Father's Day!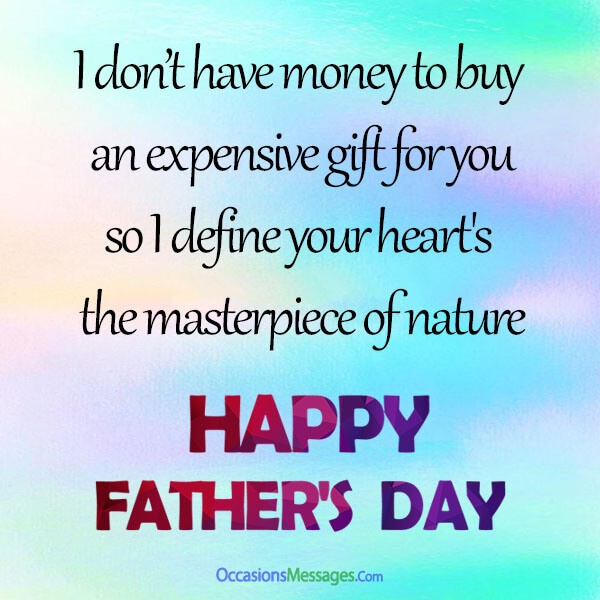 From Daughter
Dearest dad, thanks for always accepting my whims. And knowing that makes me happy as a beloved daughter. Happy Father's Day!
At the bottom of every great soul, the greatest virtue you can find is gratitude. And it is based on that sincere feeling, that I want to thank you, father. Happy Father's Day!
Dad, I may not have inherited your eyes or your smile, but I inherited the happiness of seeing you call me your girl. Happy Father's Day!
Dearest dad, today stands as the best day to say that I love you very much and in addition to being my father, you are the best friend I could have. Congratulations!
Dearest dad, watching your daughter's growth and evolution through life is without comparison the best reward of parenting. Enjoy this gift fully, my hero! Happy Father's Day!
Short Messages
To my amazing dad, I always remind the bed stories and silly games that we play together.
I can't explain my feelings for you, but always remember one thing that you are the one whom I always adore and love a lot. Happy father's Day.
You also know I am the one who loved you a lot. Happy Father's Day, dad.
Words are not enough to explain my love for you, daddy. You always be my best man. Happy fathers day.
Whenever I look at you, I feel blessed and always thank my God for such a precious gift for me. Happy Father's day, papa.
Funny Messages
I don't have money to buy an expensive gift for you, so I define your heart's the masterpiece of nature. Happy Fathers Day.
Dad, you are the only toy that I had today but still works. I hope my toy will always stay with me. With love, Happy Father's Day.
Hey, daddy, you are my strength. It sounds so boring and old, so why wasting words to speak a little wish. Happy Father's Day Pop.
It's an extremely remunerating experience for men to change diapers. It resembles washing dishes; however, envision if the dishes were your children, so you genuinely love the dishes. Happy Fathers day.
Daddy, I know I am all grown up, but for you, I will be a financial burden. No one can afford me, but you are the one Happy Father's day.
Inspiring Messages
Let us celebrate today's Father's Day, as the world will come to an end. You deserve a royalty celebration because you have been so good to me.
All fathers deserve a father's day appreciation, so I am using this message to tell you that you are appreciated for being a good man.
The most crucial activity today is the Father's Day celebration, and I will observe it with you, my true and lovely father.
Happy Father's Day to my beloved daddy that stands outstanding from other father's around the world. You are very special to me.
Hey Daddy, I hope you remember today is Father's Day and also a special day for you and the family. We love you, daddy.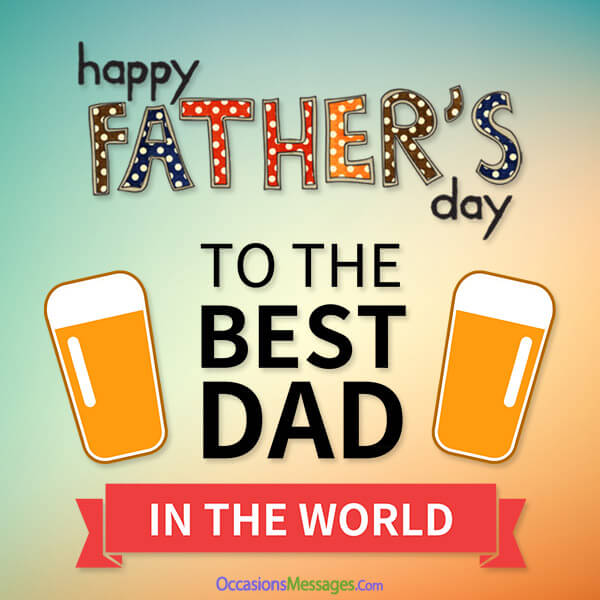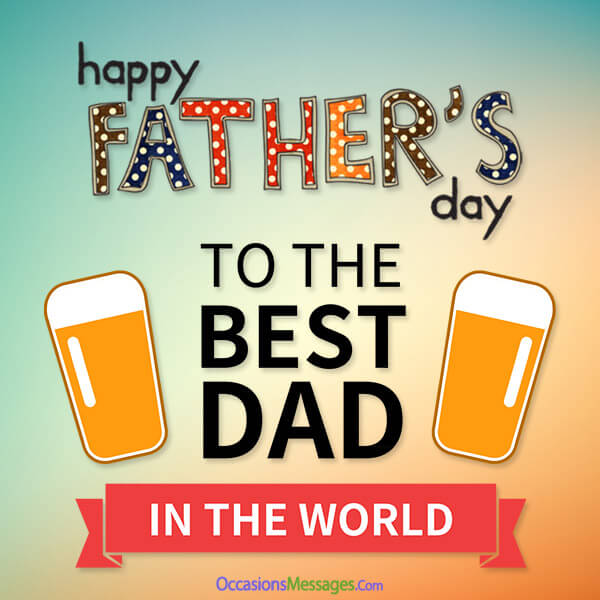 For a Friend
My father often told me that you would never understand the love of a parent until we will become one. Happy father's day, my friend.
I know a definition of a rich man; he is the one whose children run into his arms, but his hands are empty. Happy fathers day friend.
I am sending you my love and respect, and I wish that I could be there to give you a big hug. Love you and Happy Father's day friend!
Happy father's day, and thank you for all you did for family and all the delight and love you bring into our lives.
A single father is far better than thousands of Facebook friends because he always there for you in any situation. Happy Father's day.
For Husband
To my better half, you do such a significant number of things for me, and you make my life so exceptional, I simply need to state Happy Father's Day Husband.
To my marvelous spouse on fathers day, there are such a significant number of things I love about you, your glow and liberality.
You satisfy me! You satisfy our kids. You're an extraordinary dad, an incredible husband, and an extraordinary man. We as a whole love you a lot. Happy fathers day.
You came into my life and became my boyfriend; then you turned into a superb spouse. My kid and I blessed to have you. Happy father's day.
Sweetheart, you complete my life and always loved me a lot. Now, you become a father, and my kids so proud of you. Happy father's day.
For Son
It's time to say HAPPY FATHER'S DAY to my son. I wish your children bring you a lot of joy and happiness as you've brought to us over the years.
Happy Fathers Day to my dearest son, you made me proud as you start your family and deal with your responsibilities. Enjoy your Day.
Parenthood is not an easy deal, and I am happy that you make the right decision to understand it. Happy Father's day to my boy.
Son, you have now become a member of the league of heroes because you will realize that it80s not easy to become a dad. Happy Fathers Day, dear Son.
Happy Father's Day to my wonderful son. Now, you are a father, and you might better understand the love and affection of the father. Happy father's day, mate.
For Brother
I always admired you for everything, and you are my favorite sibling. I had never believed that you would make such a magnificent dad to your children happy fathers day Bro.
I wish that you always sparkle like a star for your kids as you always shine in our family. You are a brilliant member of our family. Happy father's day.
Fatherhood is a tough job, and you need to make numerous penances to do the best for your kids. I am sending my affection for the event of Fathers Day to you.
I wish you a Happy Father's Day, my dearest brother. I feel so great considering you to be acute and caring dad. May you are constantly honored.
Brother, you always remember me, our father. You are just like him, so caring and loving to the family. Happy fathers day to you, dear brother.
For Grandfather
Wishing you an exceptionally Happy Father's Day to my caring grandpa, who is the best gift to my life. I am very much obliged to you for making my life special.
Do you know that in my heart, I have an exceptional spot for you grandpa? Where there is just love for you. I wish you Happy Fathers Day.
Father told me I am just like you, and this resemblance made me so close to you. You are my hero, happy father's day to you.
Much the same as your name, your affection is such a great-grandpa. My adolescence would not have been such a great amount of enjoyment without you. Have a blessed Fathers Day to you.
Dear grandpa, your affection for me is genuine, and your place in my heart is most important. I wish you an exceptionally Fathers Day.
For Father-In-Law
God has favored me more than every other person by giving me the world's best dad-in-law, who is progressively similar to my father. Have a happy father's day.
When we add in a relation, I see the most stunning Father in law, which is much the same as a dad. have a happy Father's Day.
Since the day I got hitched, you never caused me to feel strange. You greeted me wholeheartedly and cherished me as my father did. Happy Fathers Day.
After changing your relationship to an uncle to a father-in-law, you are still as adoring, as brilliant and as mindful as you generally were. Happy Fathers Day to you father.
DAD, you are incredibly steady and understanding, which is incredibly different characteristics. A debt of gratitude is for being such an incredible dad. Happy Fathers Day to you.
For Stepfather
The measure of affection and spoiling you have given me makes you a super father over a stage father. Have a blessed Father's Day to you.
Wishing you a Happy Fathers Day to my father, who has consistently been there for me as a substantial column. You are just like my biological father. Happy fathers day.
On the event of Fathers Day, I wish the best of well-being and joy for you. May you are continually grinning and may we praise this day together.
In the past, we don't have a good experience, but now, I want to give a chance to our relation, therefore, I wish you a happy fathers day.
I am so cheerful and happy that my mother picked you for me. Thank you for all that you accomplished for me. Happy fathers day.
For Father-to-be
I know you are a little hesitating and confuse about parenting. Trust me, it's one of the best feelings to be a father. Have a happy father's day.
Hey, new father-to-be, what is going on? Are you exciting about welcoming the new family member? Now you have a blessed life. Happy fathers day.
A new chapter of life is going to start. Your family is about to start, and on that occasion, I truly wish you a blessed fathers day.
Parenting is an enjoyable phase of life, and I am sure you will enjoy it a lot. If you need any help, I am there for you. Happy fathers day.
You don't know what is coming for you because it's a very first experience for you as a dad. So enjoy the surprise daddy to be. Happy fathers day.
For New Dad
On the most exceptional day, wishing my dearest spouse a Happy Fathers Day. I realize you are going to make the world's best father to the infant.
Dear father, I need to reveal to you that you are the best in the entire world, and I wish you Happy Father's Day.
Even though you are only one year old as a dad, yet I am so glad to state that you are the best father ever. Happy Fathers Day.
Nobody is as mindful and as cherished as you. Right now, you have done the best for our kid, and I pleased to wish you Happy Fathers Day.
On the occasion of fathers day, I wish you a blessed and cheerful day. I wish it's a new beginning of your life, and you will enjoy this new phase of life.
For Faraway Father
Father, even though Fathers Day just comes once per year, I trust you realize that I value all that you've accomplished for me every single day. Happy fathers day.
I always missed you and pray for God that we will stay together as we were in the past. I wish you a pleased fathers day.
Dad, if not for you, I wouldn't be the lady I am today. No matter how far you are living, you are in me somewhere. Happy Fathers Day Dad.
Happy Fathers Day, Dad! May you have a reliable, cheerful, and serene day, and may you have many, a lot more Father's Days. I hope next time we celebrate together.
Distance never tear us apart, and I wish that we always stay together like a big happy family. Today is yours, and I wish you a very happy fathers day.
More Fathers Day Messages
This message is to reiterate my love for you on Father's Day, I will always be there for my daddy till our world cease to exist.
Fathers Day is one to show love to our beloved father; nevertheless, I do not know how to begin because I cannot match your standard.
Everyone loves to be happy and wear a smiling face, so I decided that my father should not be left out of the fun. Happy Fathers Day.
May the joy of the season remain with you for a lifetime for a very long time to come. You are my dad, so you deserve the best.
Money cannot buy the selfless love and affection that you showed me through the years, so today means a lot to not just you but also me.
My darling father has another reason to celebrate. I cannot be left out on the fun. It's your Fathers Day, but I will tag along.
I know that nobody can have all the good things of life, but I am contented to have you as a father and will always be grateful for the pleasure.
A good father deserves the thumbs up on every other day and more on Father's Day, so wait for my sneaky little surprise for you.
Happy Father's Day to the most important man in my life. Daddy, the role that you played in my life is exceptional, so I thank you for it.
Have a positive mindset for the day, and I assure you that it will be one of the best you had in current years. Happy Fathers Day.
Let us put aside our differences and celebrate you on Fathers Day as one happy family. We love you as a dad and a mentor.
Next year's celebration will be as big as it can get nevertheless let's focus on how we can make today's celebration better than the previous one.
---
You May Also Like:
Happy Father's Day Messages from Daughter
Meaningful Father's Day Messages from Son
Funny Father's Day Wishes, Messages and Sayings
---