Birthday Wishes To A Sick Celebrant By WishesQuotes
Illness has a way of bringing out the best and the worst in all of us. When a dear friend or a loved one is sick on their birthday, the traditional cheerful birthday greetings may be inappropriate for the occasion. However, a well-thought-out and carefully crafted message may be most welcome even under the direst of situations. Let friends, family, and work colleagues know that you remember their birthdays even when they won't feel like celebrating. Don't let them disappear behind their health problems. Instead, use the occasion to offer sympathy and concern. For instance, light-hearted birthday greetings may work if you know the person well. Still, optimistic messages delivered with sincerity may lift the spirit as the celebrant marks a nontraditional birthday.
Happy Birthday and Get Well Soon Wishes
I am praying for a big miracle on your birthday and wishing you a day filled with love, peace, and all assurances that the best days are yet to come.
Sincerest birthday wishes to a special person who faces all of life's challenges with a smile. I don't know how you do it, but I wish you a speedy recovery and a return to the fun times. We miss having you around.
There is no greater fortune than to be blessed with good health on your birthday. However, when health issues arise, as they do in this life, may we find the inner strength and the grace to handle it as well as you are doing.
They say that some rain must fall in every life, but you have been dealing with a tsunami of health troubles lately, and I feel for you. So hang in there, and know that we are all pulling for you. Have a blessed birthday!
There is nothing I want more for you on your birthday than to get better soon. The world just isn't the same without you hanging out with us.
I understand that you don't feel like celebrating your birthday when you are ill. So just know that I'm thinking of you, and I'm ready to do whatever it is you feel like doing today.

Birthday Wishes for a Sick Friend
For your birthday, I wish you a speedy recovery and a quick return to normal. But, of course, it will be a double celebration as soon as you feel like having company.
I am sending you good wishes and big hugs on your birthday. I hope you feel better real soon.
This day is special, and I wish we could spend it together painting the town red as we usually do on special birthdays. I want you to know that you will be in my thoughts today and always. Happy birthday to my dear friend.
You are constantly in my thoughts and prayers, especially during this difficult time. I wish you the best on your birthday and beyond.
Here's hoping that you'll be back on your feet soon. We are going to have a belated birthday celebration to end all birthday celebrations. Get well soon.
Sending you positive vibes on your birthday and hoping that you will be back on your feet real soon.
Birthday Wishes for a Friend Hospitalized
You are a living example of courage in the face of adversity. Being in the hospital on the day you mark a milestone birthday isn't the best situation, but good times will come. So hang in there, and believe that will be better days ahead.
I will never forget the way you picked me up when I was down. You have such great empathy, and you know all the right things to say. But, beside you, I am a blithering fool who can only wish that I could do more for you as you spend your birthday in a less-than-ideal situation.
Please let me know if I can do anything for you as you spend your birthday in a hospital bed. I am sending you warm hugs and good vibes for a very speedy recovery.
Here I am feeling sad that you're spending your birthday confined to a hospital bed. But knowing you and your knack for making lemonade when life hands you lemons, you'll probably be voted Boss of the Ward before the day is over.
I know you would rather spend this birthday watching the sunset while sipping margaritas, but there's a great view of an all-day auto show from your hospital room. I hope you feel better real soon.
I am sending you love and good wishes on your birthday in the hospital. It isn't your choice of five-star accommodations, but I heard the service is excellent in there.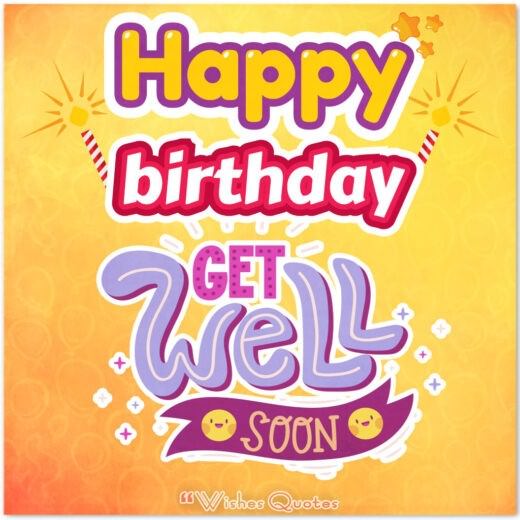 Birthday Wishes for a Cancer Patient
I am sorry to hear about your cancer diagnosis. However, I wish you a peaceful birthday surrounded by your loved ones and hoping for many more birthdays to come.
When the Big C comes calling, even the toughest among us will cringe in fear. Your strength in the face of this challenging illness is an inspiration to us. I am sending special prayers of comfort on your birthday.
I am sorry that you are facing difficult circumstances with your recent cancer diagnosis. However, I will be right here to hold your hand when you want me to. I will be your shoulder to lean on anything you want me to be on your birthday and for as long as you need me.
Marking your birthday is probably furthest from your mind as you face the challenges of your medical diagnosis. But, please know that we are here for you in whatever capacity you need us today and every day as long as you want friends around.
I am here for you as you face the reality of your cancer diagnosis. Please let me know how I can be a better friend in these trying times.
Cancer has a way of making us realize what is truly important in this life. I am grateful for every birthday that I have shared with you. The power of your positivity blesses me.
More Birthday Wishes and Get Well Soon Messages