Best Short Mother's Day Messages
t really does not matter if you decide to write Short Mother's Day wishes or a more detailed and elaborate write-up, what matters is to give kudos to our moms, and mothers that we know for attaining motherhood.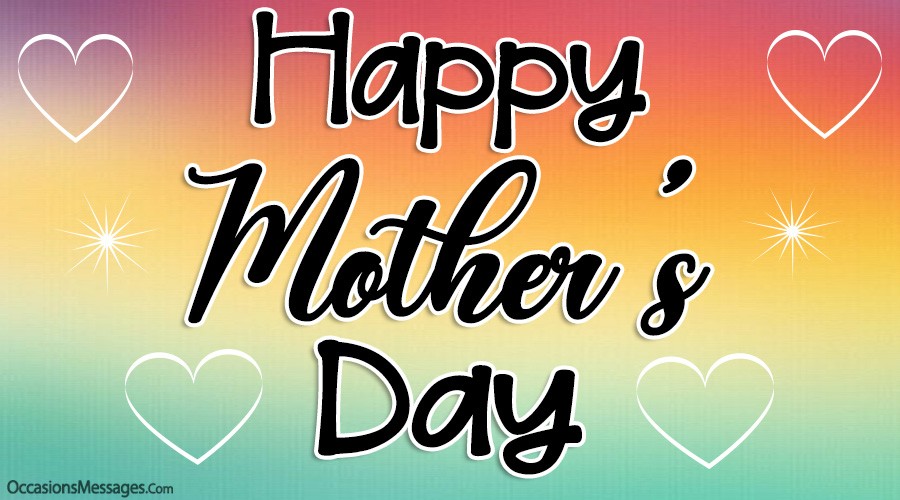 A simple line of text can go a long way to express how dear they are to our hearts. Do not bother about composing the messages, we provided a collection of amazing Short Mother's Day Messages for the Mothers.
Happy Mother's Day SMS Wishes
Mum, living becomes easy with you around. Happy Mother's Day!
Everything I am and I have owed to you. Happy mother's day to the best mom in the world!
Mother, for you I only have words of affection and thanks. I love you with all my heart! Happy mother's day
You are the most significant mother of the day, and making you smile is what I have to do on Mothers Day.
Happy Mother's Day to my adorably sweet mother. You are simply the best amongst the rest.
The fall of a child starts when they stop caring for their parent. Happy Mothers Day to you, dear mother.
Speaking of your kindness is like preaching to the choir because everyone knows you to be the best mother alive.
Dear mum, you are my guiding star, who has always comforted me and who deserves the best. Happy Mothers Day
Mom, you are the first person in my life. It is unique and eternal. Thanks for everything.
Mother, you educated me, taught me how to live and always showed me the right way. Happy mother's day.
There is nothing that matters more than my lovely mother on Mothers Day, I mean absolutely nothing.
Thank you for raising me and showing me how to live life the right way. I hope you have a befitting Mothers Day.
Mother, may the heavens pray for you as you partake in the Mothers Day celebration.
There is a lot of good mothers out there, yet none of them matches you. It s another Mother's Day to celebrate you.
Dear mum, thanks for bringing me to life, giving me affection, and dedicating your time and life to groom me.
Mom, I don't need a day to show my love for you. I love you from January to January! Happy Mothers Day!
Smile and mother's lap are more delicious than chocolate ice cream, and also cheaper. Happy Mothers Day mum.
You possess all the attributes of a good mother; that is why you are my Mother's Day hero of all time.
Mother, have a nice Mothers Day by celebrating yourself for being an amazing woman.
Nobody will pass on the chance of having you as a mother, unfortunately for the wishers, you are mine.
A simple text is not enough to celebrate you; nevertheless, I hope it reveals my personal care.
As a good mother that you are, only good things will come to you on Mother's Day. Happy Celebration.
Mother! A companion, a counselor, a friend, a unique example of love. Happy Mothers Day.
Mother, life has gifted me by putting you as that person who takes care of me.
If I am a happy and complete person today, it is because of you.
You are the best thing that ever happened to me, so I wish you a remarkable Mother's Day celebration.
I love you and will always do as your child because you are an irreplaceable mother and person to society.
May the blessings of Mothers Day fill your cup until it runs over. Ensure to enjoy the day to the fullest.
Mothers Day can only come and go, but my love for you will remain even after the end of the world.
Dear mum, you teach by knowing, by example and by unconditional love. Happy Mothers Day.
My world only exists because of you. I will be forever grateful for all the love and care you gave me.
Today will not be the last Mother's Day that you spend on the land of the living. I wish on you more fruitful years.
Happy Mothers Day to my first love. Promise me that you will always be happy and wear a smile for the rest of Mothers Day.
I sent a thousand kisses through the morning wind as a Thank You gift for Mothers Day. I hope you got them.
Angels cannot be sweeter than my mother because you act as one to me.
Other things do not matter as much as your happiness on Mothers Day. Remain Happy, my dear mama.
Happy Mothers Day to my mother and friend. You will always remain the best in centuries to come.
It does not matter what the world thinks of you. I know that you are an amazing Mother.
Everything about you is perfect. It is incredible that you still look beautiful, despite your age. Happy Mothers Day.
Happy Mothers Day to you. Do not let anything stop you from having the time of your life today.
You are a blessing to your generation of women; that is why you will always be the one to have all my unlimited love.
Every Mother's Day will be better than the previous one for being such a wonderful mother.
May God grant you peace of mind and happiness through your lifetime. Happy Mother's Day to my sweet mother.
The concept of Mothers Day makes perfect sense, so observe the day, knowing I love you more than others.
I wish that I can take you to another planet for Mothers Day; nevertheless, we can make it worthwhile.
---
You May Also Like:
200 Mother's Day Wishes, Messages and Quotes
Best Mother's Day Wishes from Daughter
Heartfelt Mother's Day Wishes and Greeting from Son
---