Motivating Messages and Quotes for Students and Grads
Inspiring messages for students: Everyone can use a bit of a lift these days, especially students who are adapting to unfamiliar learning environments. Creating a room that is conducive to studying while stimulating the imagination requires resourcefulness. Vibrant color, good lighting and inspirational messages posted in the right places can provide a boost when students feel stressed or bored. Here are some lighthearted messages that can be used on posters, framed art or any printable surface. Use them on chalkboards that can be changed as needed or flash them on electronic boards to serve as conversation starters. Insert a slide of an inspirational quote at the beginning, middle or after a PowerPoint lecture. You could be rewarded with smiles and virtual hugs because, in these strange times, anything that boosts the spirit is welcome.
15 Motivational Messages for Students
You'll never know if you never try. When you try, and it does not work out, keep on trying. The journey is worth every battle scar.
You are what you believe you are. Choose to believe that you are a winner, and you will be!
The power of your mind is infinite, but you have to be willing to take chances. The mind is an awful thing to waste on mediocrity.
Stop looking around for inspiration. It's in you. Feel your fire and power your passion. You are a champion.
Fact: There are things you cannot do. Also fact: There are things you can do. Do not let the things you cannot do interfere with the things you can do.
Failure is not the end. It is the start of a new adventure, but the big difference is you are now wiser with experience.
An obstacle-free pathway leads nowhere interesting. Embrace the obstacles in your path as part of the adventure.
It takes more courage to ask for help than to do it alone. If you never ask for help, you may never know what you are capable of achieving.
It is easy to give up when you see failure as the end of the road, but every failure is a stepping stone to success. Give it one more try, and you might be surprised at how close you were to success when you were about to give up.
If you hear a little voice telling you that you'll never get it, put everything you've got into getting it. That's one way to silence those pesky voices that hold you back.
Hard work is more significant than talent when talent refuses to do the hard work.
Believe that you are unique because you are. On some days, it may take a bit of effort to find that amazing-ness in you, but it's there. I promise.
Your attitude determines how easy or difficult an assigned task is going to be.
The best way to find your destiny is to create it. Dream it. Do it. Achieve it.
Your dreams are your own. Do not allow the limited imagination of others to curb your own.
Inspiring Education Quotes to Motivate Students
A man's mind, stretched by new ideas, may never return to its original dimensions. – By Oliver Wendell Holmes Jr.
The beautiful thing about learning is that no one can take it away from you. – By B.B. King.
Education is the most powerful weapon you can use to change the world. – By B.B. King.
Strive for progress, not perfection.
He who opens a school door closes a prison. – By Victor Hugo.
Keep away from people who try to belittle your ambitions. Small people always do that, but the really great make you feel that you, too, can become great. – By Mark Twain
Start where you are. Use what you have. Do what you can. – By Arthur Ashe.
Either you run the day or the day runs you. – By Jim Rohn.
Education is the passport to the future, for tomorrow belongs to those who prepare for it today. – By Malcolm X.
If you think education is expensive, try ignorance. – By Andy McIntyre.
We learn more by looking for the answer to a question and not finding it than we do from learning the answer itself. – By Lloyd Alexander.
You will either step forward into growth, or you will step backwards into safety. – by Abraham Maslow.
The man who does not read books has no advantage over the one who cannot read them. – By Mark Twain.
Teachers can open the door, but you must enter it yourself. – Chinese proverb.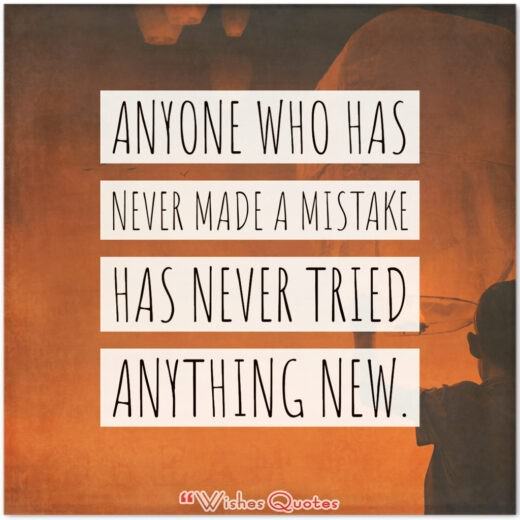 Inspirational Quotes About Embracing Failure
Don't let what you cannot do interfere with what you can do. – By John R. Wooden.
Anyone who has never made a mistake has never tried anything new. – By Albert Einstein.
Learning is never done without errors and defeat. – By Vladimir Lenin.
Never let the fear of striking out stop you from playing the game. – By Babe Ruth.
Motivational Quotes About Hard Work
There are no shortcuts to any place worth going. – By Beverly Sills.
Genius is 10% inspiration, 90% perspiration. – By Thomas Edison.
Success is the sum of small efforts, repeated. – By R Collier.
I find that the harder I work, the more luck I seem to have. – By Thomas Jefferson.
More Motivating Quotes